Old Crow's Synth Shop: the crOwBX project
crOwBX Home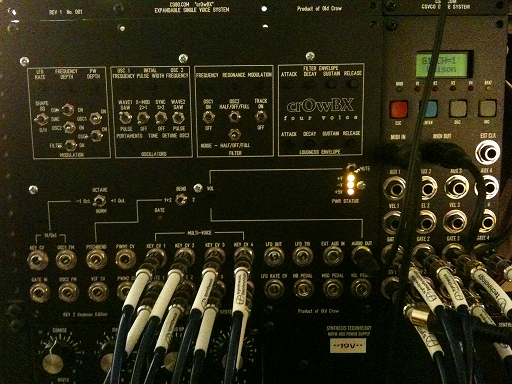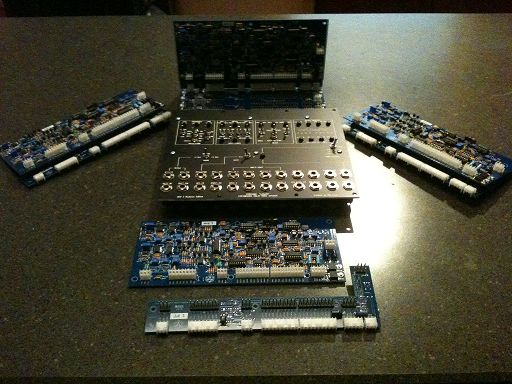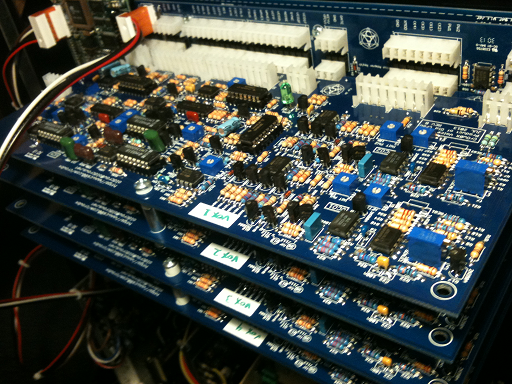 Ordering info page: please read carefully
Just so folks understand, the crOwBX is a fully manual 1-to-4 voice analog music synthesizer. It requires a MIDI to CV/gate source such as the MOTM-650, Paia 9700K...what have you. Of course CV/gate outputs from various keyboards will work as well (S-triggers will need converted to +5V gates) though for all four voices you will need four gates and four pitch CVs. The pitch CVs are 1 volt per octave.

The crOwBX is not a programmable-preset device. The host board controls define the active patch. Users are free to develop their own patch manager hardware of course, but at their own discretion.

The user must also provide for some sort of front panel and case. I provide a free .fpd file for use with Front Panel Express to make a 5U tall by 6U wide panel that can be rack mounted (using 19" rack rails), however please note you use this file at your own discretion as any errors in the production of the panel by the user are the responsiblity of the user.

The crOwBX uses a +/-19 Volt power supply as each board in the system has local voltage regulation. Therefore users will need a +/-19V supply. Crow uses a Power One HAA15-0.8-A modified for +/-19V as outlined here

Construction hints for the crOwBX will be added on the crOwBX main page over time detailing things such as jack wiring, examples of certain component mountings, and so on. Be sure to download the parts lists!

Lastly, it has to be said:
Legal
Disclaimer: Scott Rider / Old Crow / cs80.com cannot assume responsibility for incomplete or otherwise non-functional purchaser-assembled boards that were attempted from the bare board sets. The bare board sets are sold with the expectation the purchaser can competently assemble or otherwise hire competent assembly services for the bare boards. The purchaser waives any refund claims on boards that were purchaser-assembled in any capacity. If parts have been soldered (or visibly desoldered) the boards are considered "open box goods" and non-returnable/non-refundable rules apply to the board sets.

TL;DR: Don't blame me if you break something.

The Old Crow is available to assist in debugging a build, the standard "look over it" fee is a flat $25. Simple repairs will be provided gratis, while repairs involving damaged boards or components will be billed at a modest parts+labor fee. Cracked boards or boards soldered with, say, a 150W soldering gun must be replaced at the purchaser's expense.

Now onto more pleasant things.
Order Options
Note: the shopify web site calculates the shipping by weight and whether it is domestic or international shipping. In most cases this will be US$10.00 for US orders and US$20.00 for overseas orders.

There are three types of order one can place:

1) To make a SINGLE VOICE system, order the crOwBX Single Voice Board Set (a single voice system can be expanded at a later date)

2) To make a FOUR VOICE system, order the crOwBX Four Voice Board Set

Note: order from the following third option only if repairing or expanding a vintage Oberheim OBX. Expansion of the crOwBX beyond the basic single-voice system requires one carrier board, one slot adapter per additional voice as well as the additional voice cards. Contact cs80.com if existing single-voice crOwBX expansion is desired and I will provide specific instructions.

3) For vintage OBX voice card replacement or expansion, order the crOwBX Voice Board Rev.2
Options
cs80.com offers a pre-programmed noise generator PIC for $5: Noise PIC

Orders during the initial week of sale will be filled as quickly as possible, but there may be a day or two of extra delay as Crow can only pack things so fast.



---
(Change numbers to letters for email)
Scott Rider "The Old Crow" -- 0ldcr0w@0ldcr0ws.n3t